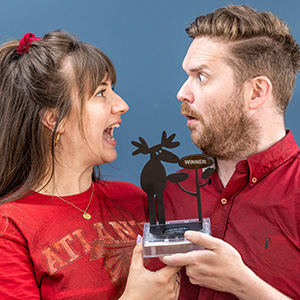 It's the end of the Edinburgh Festival Fringe. Here are the 2022 awards! – the runners, riders and winners.
Dave's Edinburgh Comedy Awards
Winner – Best Show
Sam Campbell Comedy Show
Winner – Best Newcomer
Lara Ricote GRL/LATNX/DEF
Winner – Panel Prize
Best in Class
Best Show nominations
Alfie Brown Sensitive Man
Colin Hoult The Death of Anna Mann
The Delightful Sausage Nowt but Sea
Jordan Gray Is It a Bird?
Josh Pugh Sausage, Egg, Josh Pugh, Chips and Beans
Larry Dean Fudnut
Lauren Pattison It Is What It Is
Liz Kingsman One-Woman Show
Sam Campbell Comedy Show
Seann Walsh Is Dead. Happy Now?
Best Newcomer nominations
Amy Gledhill The Girl Before The Girl You Marry
Emily Wilson Fixed
Emmanuel Sonubi Emancipated
Josh Jones Waste of Space
Lara Ricote GRL/LATNX/DEF
Leo Reich Literally Who Cares?!
Vittorio Angelone Translations
Malcolm Hardee Awards
Comic Originality – The Flop: A Band Of Idiots (Dan Lees, Tom Penn & Cammy Sinclair)
This trio of performers put on a unique musical comedy show with remarkable clowning talent and the greatest band in the whole world… ever.
Cunning Stunt – Ivor Dembina
With a bin collectors' strike beginning in Edinburgh mid-Fringe, Ivor took comic advantage of the mounting piles of rubbish around the city, promoting them as performance art.
Act Most Likely to Make a Million Quid – Jerry Sadowitz
Jerry Sadowitz was the only possible winner of the Million Quid prize in 2022. The cult comic, celebrated magician and former protégé of Malcolm's was booked to perform his Not For Anyone tour on two successive nights at the Pleasance's EICC venue. However, despite a show that did not deviate in style from that which he has become known for over a quarter of a century or more, the second night was unceremoniously cancelled by Pleasance.
Claiming that both [we are] a venue that champions freedom of speech and we do not censor comedians' material, and the material presented at his first show is not acceptable … this type of material has no place on the festival, the furore made national headlines, propelling Sadowitz to wide public attention.
With the rest of his tour experiencing a boom in ticket sales, he was swiftly booked to play London's iconic Hammersmith Apollo – a room of more than 3,600 seats.
Amused Moose
Top Sketch show: Grubby Little Mitts (pictured)
Outstanding show: Richard David-Caine
Best debut: Chelsea Birkby
So You Think Your Funny?
The winner was Joshua Bethania
Mark Black was named the runner-up
Jack Skipper and Pravanya Pillay came joint third