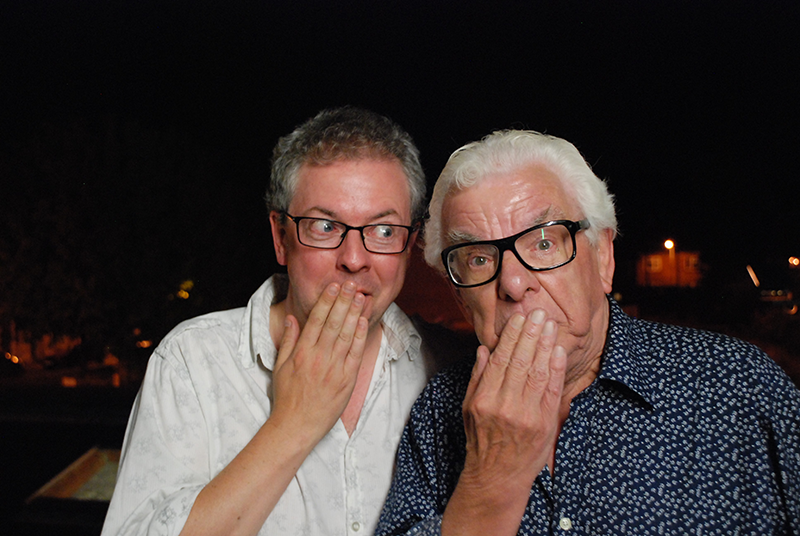 According to the comic and poet John Hegley, to make a living as a comedian, you need 5,000 fans prepared to buy your stuff. Five thousand enthusiasts going to gigs, reading books, dowloading podcasts and watching DVDs. Keep feeding these devotees new product and they'll never leave you. They are all powerful and without them there would be no Daniel Kitson.
Indie comedy outfit Go Faster Stripe, has adopted this idea as a business model.
Chris Evans, Go Faster Stripe's founder, tells its origin story. "In short, no production company wanted to make a DVD of Stewart Lee's show, 90s Comedian. So I Did."
Stewart Lee was fresh from near bankruptcy, having had his West End musical, Jerry Springer the Opera closed as a result of heavy lobbying by a right-wing Christian sect. Those offended by Stewarts's gay Jesus in the now defunct musical did not appreciate Lee doubling down on the blasphemy in 90s Comedian. So Chris asked a couple of mates, who happened to be professional camera operators, to help out. More than ten years later and they're still helping.
"After the 90s Comedian release became successful, Stewart introduced me to Richard Herring, who has since become our most prolific comedian."
Go Faster Stripe now stocks DVDs, CDs, albums, books, downloads and some of the UK's most successful comedy podcasts. An episode of Richard Herring's Leicester Square Theatre Podcast (known as RHLSTP) reunited Lee and Herring for a touching and hysterically funny interview. Another episode featured Stephen Fry, in which the national treasure talked openly for the first time about his attempted suicide.
"Richard Herring is a living, breathing example of John Hegley's 5,000 theory in practice," notes Chris. "He uses his podcasts to build his fanbase enough to sell out live tours, without the faff of having to appear on television."
Chris has now worked with pretty much a Who's Who of modern alternative comedy. Munnery, Eldon, Lovett and Law among many others. Simon Donald, the founder of Viz, has released his autobiography through the company. Brendon Burns produced a limited-edition vinyl record, with extensive sleeve notes recreating the comedy albums of yore.
"The comedian retains control of the project all the way through. Nothing happens without the comic wanting it to happen. Importantly, the comedian shares copyright on each release."
Does Chris have a favourite? "Well, Stewart started the whole thing. Richard is terrific. I am very proud of Susan Calman's release, Ladylike. She's a brilliant comedian, the film looks amazing and, best of all, a clip of it was shown on The One Show, which made my mum very proud.
"My biggest thrill though, was probably meeting the great Barry Cryer. He can drink me under the table."
So how do you market stuff that people haven't heard of? "I don't do marketing. We make the best product that we can and the audience finds it. People have been doing this in the music industry for years. I have an email list and I'll use Facebook and Twitter, but by doing that I'm only speaking to people who are fans already.
"I don't think about whether a product will sell, particularly. I just want it to be good."
So perhaps it's true that the Stewart Lee releases keep the whole enterprise going? "That was certainly the case in the beginning. But these days Richard and several others also have strong followings."
It's a recurring theme in Stewart Lee routines that he has the sort of fans who are happy to steal his stuff from the internet, whereas Michael MacIntyre's devotees will obligingly buy a DVD. "Go Faster releases do appear on torrent sites and on YouTube occasionally but, to be honest, when I message folk to state that we're only a small company, not a nasty multi-national, they almost always get taken down.
"One of Richard Herring's shows turned up on the internet dubbed entirely in Russian. It's bloody hilarious. I'm trying to find out who it is so we can ask permission to use it as a DVD extra."
Now there's integrity: asking a bootlegger for permission to use something they nicked from you in the first place.