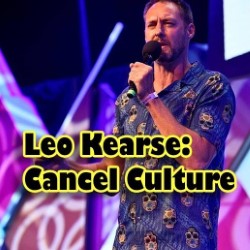 This Review is from August 2021
When Guto Harri took the knee on GB News, live on air, viewers were so outraged that the presenter was suspended. Management said that Hari's actions were "an unacceptable breach of our standards". When GB News and its viewers cancelled Guto Harri, was it justified?
Leo Kearse's show, Cancel Culture, sadly doesn't quite nail what cancel culture is or whether it's ever OK. The radio doesn't play Gary Glitter records – cancel culture? The BBC doesn't show Jim'll Fix It repeats – cancel culture? Harold Shipman isn't allowed to practice medicine – well you get the idea. Surely there's a line there somewhere?
Kearse does talk about being frequently cancelled, most notoriously by trans activists in Australia, in response to a show he had written with the trans girlfriend he had at the time. What isn't clear is what he actually said to get cancelled. If Kearse is arguing that cancel culture has gone too far, then he should tell us the full story and let the audience judge. If he is suggesting that cancelling someone is never justified, then fine – let's hear the argument. And there is a real argument to be had here. People are losing their jobs for offensive tweets they made ten years ago. Kearse himself is losing gigs in Edinburgh after a joke he told a Times journalist was printed out of context.
Kearse is a great comedian and one more than capable of tackling this tricky subject and making it funny. On stage at comedy nights like Hate 'n Live and on Twitter, he is a fierce, sharp, funny debater.  Moreover, past shows have changed a few minds in response to his direct, uncompromising, truthful approach. He can be brilliant.
Kearse is a solid joke writer and a top-notch performer. If the show is lacking in the usual bite or direct message, promised in the title, it isn't short of laughs. It's very difficult to be disappointed in a show when you've been laughing non-stop for an hour.
Ultimately, if this show had been called An Hour of Leo Kearse Being Funny, then it's easily five stars. And if the BBC is truly looking for a right-wing comedian for TV, he's right here.