Experienced reviewer, Tony Challis is a former writer for Outright Nottingham, Gay and Lesbian Humanist magazine, ScotsGay magazine and Broadway Baby. He is a retired drama teacher. His favourite comedian is Robin Ince (the cuddly human firework).
2022 Edinburgh Festival Fringe Reviews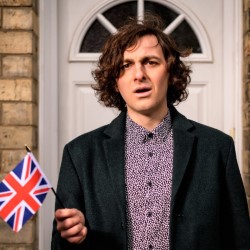 Door to Door Poetry: Nationwide
The Street
★★★★
Rowan McCabe is an amazing and very unusual poet. He embarked on a project to knock on strangers' doors all over England and write a poem on the subject chosen by whoever answered the door, for free. A bit like an Avon lady, but with rhymes. He began in March 2019, and did not know he would have limited time to complete his project.
When I saw him there were only three of us in the audience, but still he gave of his all, and told an absorbing and dynamic tale of his setting out from his native Newcastle to the south – which from his perspective included even Preston.
He encountered a great variety of front doors and people, going as far afield as the Isle of Lundy (very particular people here), Boston, Lincs (reputedly very divided), Migrant Help in Folkstone and Lord Jeffrey Archer's home – but he was not at home. There were many different attitudes, and much was implied about class differences.
Rowan makes his adventure across wildest England urgent and involving to his audience. It is as though he is excavating the eccentric edges of England, and showing it to be more curious and warm than we might have thought. His show is a unique experience well worth enjoying.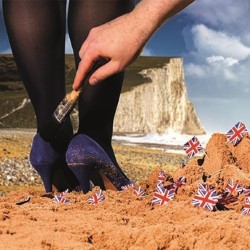 Exodus
Traverse Theatre

An ambitious Home Secretary of South Asian origin wishes to become Prime Minister. A spectacular media event is arranged at Dover where, almost Canute-like, she is seen keeping back the waves of refugees. But – a small Moses-like parcel disrupts her plans. Asiya Rao, the politician, then has to head to London to make a major policy announcement. But all goes spectacularly wrong, despite the best efforts of her ruthless advisor Phoebe.
What begins as broad comedy darkens into Machiavellian politicking, then becomes farce, with the audience gasping in amazed laughter. There are signs that the writer knows Swift's Modest Proposal.
This is a brilliantly constructed show that is superbly entertaining at the same time as making clear the deep inhumanity of our current leaders. See this show while you can; for how much longer will such lampooning of those in power be permitted?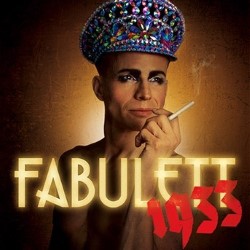 Fabulett 1933
The Space at Surgeon's Hall
★★★★
In this engrossing and stunning one person show (assisted by a very able keyboard player) Michael Trauffer presents the story of one of the Weimar Republic's most notorious cabarets, the Fabulett. We begin with reference back to WW1 and its horrors, but then Trauffer becomes a commanding presence in muscle and leather, telling us the story of the venue and singing some of his own songs, but also many famous from the time, mainly by Spoliansky, especially Lavender Song and Masculine/Feminine.
Michael Trauffer takes us through the years from 1918 to the closing of the cabaret in February 1933 when the Nazis took over. The Pink Triangle gays were made to wear in concentration camps makes a striking appearance. Yet the intensity of feeling and the depth of experience recounted makes this show a vivid experience; here is passion, love affairs – even if with the wrong guy, the great Magnus Hirschfeld dressed as "Auntie Magnesia", and people living, dancing and loving as they chose.
See this show for Michael Trauffer's storming performance and singing, for a celebration of alternative living, and a warning.
Luke Wright: The Remains of Logan Dankworth
Pleasance Courtyard (Pleasance Above)
★★★★
This is the impassioned story of the life of Logan Dankworth from 2015, an anti-Brexit columnist, not taken as seriously as he would like, and his personal life.
Luke Wright takes us into the often tormented feelings of his character as he struggles to succeed in his career, and as a husband and father. He shows us how difficult it can be to be a good man in the storm-tossed world of today's media. Not much light relief here, but intensity and integrity. Luke is very good at briefly becoming his surrounding characters, such that you can feel you have been through group scenes.
I felt it a pity that this torrent of talented impersonation did not have a larger audience – it would surely work well as a radio drama.
It is well worth taking a break from the sun and inhabiting Logan's world for an hour – and he does break through to a kind of epiphany.
Olives And Blowjobs

The Space Triplex
★★★★
Ollie Maddigan is a twenty year old actor of great skill and versatility. This show begins comically, the character being a fifteen year old lad with his school bag, eager to fit in with the gang, a mixture of shy and adventurous. Gradually, darker elements appear – counselling and the loss of his mother.
There is a great variety of moods and tones in this show – a teen party, for example, is hilarious, but subsequent events contrast greatly.
This is an extremely admirable and successful one man show. Ollie Maddigan holds his audience in the palm of his hand, we are waiting on his every word and action, and he conveys the characters around him with the briefest of apposite touches. However, I did feel that the show could have been even better if a little shorter – if five minutes could be trimmed by editing several encounters.
That said, I highly recommend this show as great entertainment, a display of tremendous acting skill, and a reminder of the importance of acknowledging and respecting grief.
Railed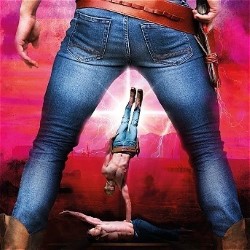 Assembly George Square Gardens – Palais du Variete

Head First Acrobats are here from Australia to deliver a thrillingly stunning show, with amazing physical feats. Bare-chested circus meets bare-knuckled bar fights. And these guys have muscle!
See ladders, trampolines and heaps of chairs used in ways you might not believe if your eyes were not seeing them.
As well as being incredibly skilled, these guys have a terrific sense of humour. The wit sparkles throughout the show, there are as many laughs as gasps. The connection between the four performers is intense, with fine characterisation, plus the relationship with their audience is brilliant.
There is increasing camp fun later, with graphic moments, and you might leave the show believing in queer unicorns.
What you can be sure of is that you will be brilliantly entertained for an hour of daredevil acrobatics, comedy, and wonderful bodies displaying all the techniques and skills they are capable of.
Sam See: Government Approved Sex

Laughing Horse at the Counting House – The Attic.

In strictly controlled Singapore during the pandemic, the government asked a gay comic to run a series of sex and love panels in the National Library.
The dynamic and irrepressible Sam See takes off from this unexpected call in a country where being gay was criminalised to talk about many aspects of sex and love here at the Fringe. He tells us about the five languages of love, many fascinating facts about sex around the world, who cheats on whom – the naughtiness of the human species. All with the lightest of touches. Sam's total lack of inhibition – including when talking about his own sex life – and his delight in what he is doing, makes this show a joy from beginning to end.
Never mind that the Attic is reputed hot – Sam provides fans. And this show will bring him a great many fans. Get along to this show for an hour of unexpurgated bliss!
Soho Boy
The Space at Symposium Hall (Annexe)

Owen Dennis is a very versatile and enchanting performer. He engages the emotions and educates his audience. His character Spencer leaves home and hits the streets of Soho. This young lad works is a clothes store, parties and meets a special man who encourages him to busk. He has stars in his eyes and wants to make a success on stage. He is warned of the darker side of the scene, but warnings often go unheeded.
Owen sings well and movingly, as well as with wit and panache. He rapidly takes us through Spencer's descent and rise. He is charmingly unfazed by the awkwardness of repeatedly removing tight trousers, moves swiftly between a variety of costumes, and gives some Daddies a little extra attention.
Real talent is on show here – warmth, an ability to say much in a short space, and to have a vibrant and compelling connection with his audience.
WILF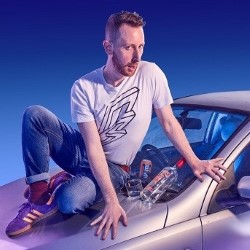 Traverse Theatre – Traverse 1

This show is a hilarious, laugh-out loud romp about a gay man who falls in love with his rusty VW Polo – Wilf.
It is written by James Ley, author of the wonderful Love Song to Lavender Menace, who says the story is about love, loss and pain, but is also funny – and it is that, extremely. The audience laughed loud and long.
Calvin is revolutionising his life – leaving his abusive boyfriend, seeing – and shagging – the world. Calvin's best friend Thelma – his long-suffering driving instructor and lapsed psychotherapist – provides a sharp commentary. As the audience roars with delight, Calvin hits the road – needing to be rescued at various points. I must leave you to imagine how he makes love to his cherished car, to a background of 80s power ballads.
Get along to this show, and let yourself go along with this crazy road-sex odyssey.