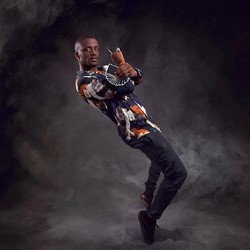 The show kicks off with a Britain's Got Talent montage. I don't know if BGT finalists are contractually obliged to do this, but it's unnecessary and falls flat. The audience is either here because of the magician's acclaimed appearances on the ITV show, or they are not. It's like seeing a trailer for a movie that we've already paid to see.
Thankfully, as soon as Magical Bones (Richard Essien) appears on stage the energy immediately lifts, and we are off. This is a terrific magic show.
Now, I'm a fan of good live magic. The likes of Penn & Teller and John van der Put have taken comedy/illusion to new heights of quality and mass appeal. Bones adds breakdancing and sass to the artform. With apologies to the named above, Bones makes magic sexy.
This is assured showmanship. Like most magic shows, its success depends on audience participation. Now, the general public are capable of saying or doing anything, but Bones is always in control. Indeed, there is a great card trick that involved the entire capacity audience which had everybody scratching their heads. Very impressive.
Bones grew up performing breakdancing on the streets of London. Eventually he started to incorporate magic into his dance routines. When he studied Maths at university, he claims that dance improved his cognitive ability and helped him solve maths problems. He demonstrates the relationship between maths and dance with an amazing trick with a Rubik's Cube.
Bones talks about being interested in magic since he was 10 years old when his mum got him a Paul Daniels magic set. There were no famous black magicians when Bones was growing up – no role models. We learn about Henry 'Box' Brown, who performed what Bones describes as, "one of the greatest escape acts in history". Brown was a slave in the nineteenth century USA, when, in 1849, at the age of 33, he escaped slavery by mailing himself in a small wooden box from Virginia to the abolitionists in Pennsylvania. After a stint as a high-profile abolitionist speaker, he eventually moved to the UK, where he became a full-time anti-slavery magician. Bones recreates Brown's escape trick to gasps and cheers.
This is wonderful, wonderful stuff.
Martin Walker