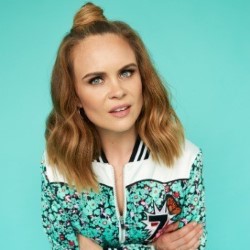 Joanne McNally
Joanne McNally is a stand up comedian based in Dublin, Ireland.
She has numerous TV credits including Republic of Telly (RTÉ 2) The Blame Game (BBC NI), Women on The Verge (UKTV), The Late Late Show (RTÉ One), and The Tommy Tiernan Chat Show (RTÉ One). Her radio credits include A Good Read (BBC Radio 4), the Sarah Brett Show (BBC Radio 5 Live), and a regular slot on Mack the Week (2FM).
Joanne created, wrote and presented the comic documentary Baby Hater (TV3), which was broadcast in twelve countries.
Previous Comedian

Next Comedian