Performer: Simon Caine
Photograph by: Alasdair Beckett-King
Show: Sex, Drugs and Other Things I Never Do
Venue: Sweet Venues at Novotel
Promoter: Sweet Productions
Tell me about your Edinburgh show.
We don't always get the ending we want in life. We can dream, but reality rarely lives up to the expectations. I thought by now I'd be in a serious exciting relationship, own a house and have a career I'm proud of. Right now I'm answering these questions in my boxers at 2pm at my parents house.
The show looks into how expectations and dreams are setting you up for inevitable resentment and why we always get what we need, but rarely get what we want.
Tell me about your first gig.
I did the Amused Moose Stand Up and Deliver course with Logan Murray. The "graduation" of this was a gig in front of friends and family of the other people on the course (I hadn't told my friends or family I was doing the course and so none of them came). It was great, albeit a safe environment to do your first gig in. My 2nd gig was in a pub in Kings Cross a month later where I died so hard I left after 2 minutes of the 5 I was booked for.
Do you have any rituals before going on stage?
I tend to turn on some music (usually the Front Bottoms) and bounce around the stage before anyone comes in. I was doing this to Eminem's "Lose Yourself" before a gig in Brighton recently (and getting a lot of the words wrong) and someone walked in on me. I've never felt more white in my life.
Tell me about your best and worst review.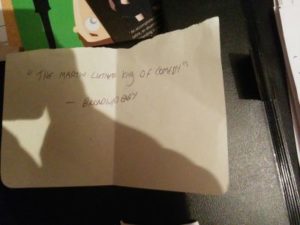 My best review came at the end of Edinburgh 2015… but wasn't official. In the show I did a whole bit saying that I hated International Women's Day because it was a yearly reminder of how shit men can be. And that if we're going to give Women's a period of time it should be longer than the amount of days we give pancakes. I said my dream would be that we don't need to give women a day at all (I'm butchering this and I'm sure someone is going to misunderstand my point and get offended). I then compared my dream to Martin Luther King's and said I'd love to be reviewed as the Martin Luther King Jr of comedy… at the end of the show one of the Editors who will remain nameless gave me this –
They said I could keep it but not use it in anything public.
My worst review came from a reviewer who gave me 2 stars last year and I guess they're entitled to the (incorrect) opinion.
During this Edinburgh run, do you plan to read reviews of your show?
er, no. Although last year 2 friends over the run sent me links to reviews… both reviews were fine but I'd rather not have seen them. But when the link is there in front of you, you're not human if you don't have a read.
How do you feel about reviewers generally?
As a group? That's hard. Can I split them? The reviewers who have been doing it years and have my / the circuits respect I read and think are worth their weight in gold (even if they give me a bad review). The new / student reviewers I think are great and it's always good to bring in new people… and if they review me badly I can lie to myself more easily and say they don't know what they're talking about.
In April 2018, YouTube comedian, Markus Meechan (aka Count Dankula) was fined £800 for training his girlfriend's pug dog to do a Nazi salute with its paw, in response to the phrase 'Gas the Jews'. Do you believe Meechan committed a criminal offence, and why?
No. Context is everything in comedy and even if you don't find it funny, it was clearly intended to be a joke.
Are there any subjects that are not suitable for comedy?
Nope. But it depends on how you tackle them. I'll leave it there because otherwise I'll write you a 9-page essay about how bullshit it is that comedians are having to say sorry for writing something 1 person didn't enjoy / took offence to.
Have you ever gone too far?
I never feel like I go far enough. A few audiences in the past disagreed.
Looking back over your time as a comedian, tell me about the best gig of your career.
26th Jan 2016. The Comedy Cafe (Shoreditch). My soldout DVD recording for my debut show. It was amazing, but you'll have to take my word for it as the recording is still on my hard drive as I can't bare to watch it anymore…